Carl, Terry, Aly and Ty Billey
4 Darla Dr. Sayre, OK 73662
(580)243-8014 Email: showpigs@lycos.com

There's been a division in the camp.....
Aly and Ty have decided to be like normal brothers and sisters. They're going to help each other with the chores, but be seperate when it comes to the show and breeding stock. So when you see us at sales, it will be

AlyKat Showstock

and


Ty's Durocs
Look for them at the Circle of Gold #3, Sat. November 16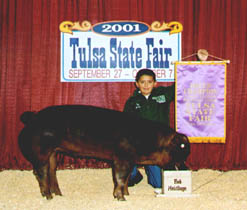 Click here to see....
Pictures of our recent winners

Our upcoming litters
The Billey's have been raising show pigs for 7 years, and in that time Alyson and Ty have done well in State Fairs, Jackpots and National Shows. More importantly, pigs that we have sold have consistenly won (and beaten us) as well as placed in local, county and state shows.
Here's a partial list of winner's that we've heard from: Class Winner (Cross) Tulsa State Fair; many placings in the OKC Spring Fair; Reserve Breed Hamp, Beckham County; Grand Gilt, Frisco County, TX, Beckham County Reserve Duroc Gilt, Four County (Fall) Reserve Duroc;
We limit our number of sows to four of varying breeds. At this time we are breeding Duroc, Hampshire and Poland. We will have middle of August through the 1st of September litters. We A.I. our sows with semen from trendy boars, carefully selected to insure each boar matches well with the sow .
Visitors are more than welcome at the farm anytime, please call ahead.
We would like you to know that we won't sell any pig that we wouldn't show ourselves. It's important to us that the kids who show the pigs that we have raised will have a positive experience. Therefore, we do cull very hard and only sale the pigs that we feel have the best chance of doing well in the show ring.

Back to